TRAVEL REPORT – Visit to the OMO VALLEY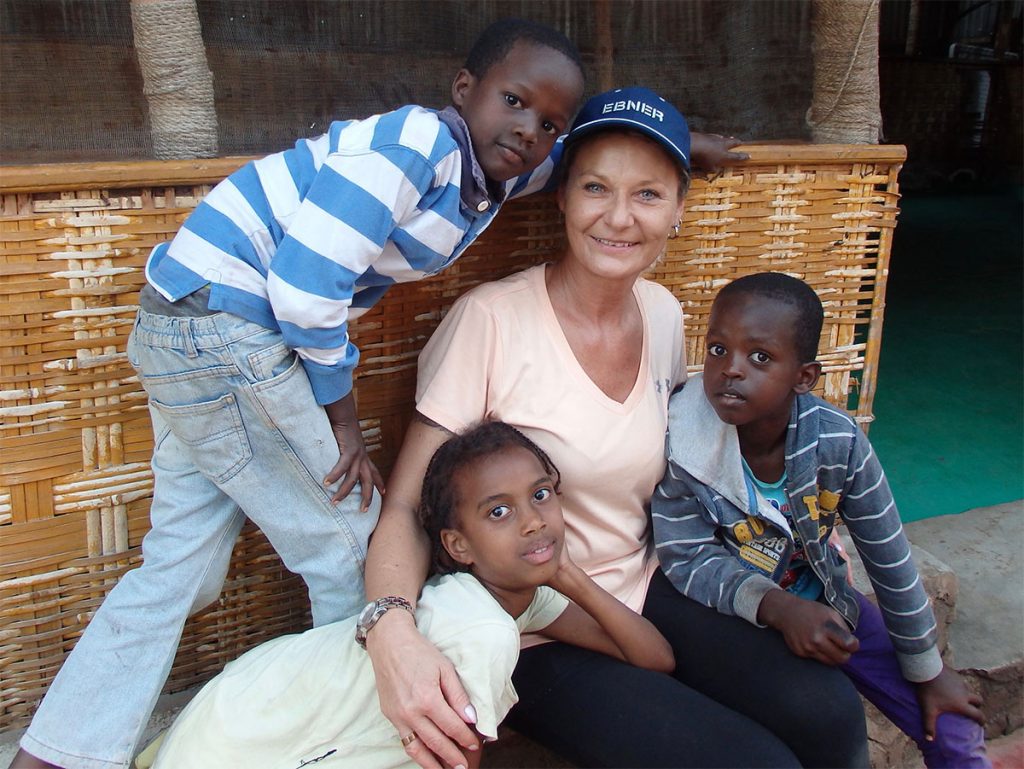 It is a great pleasure for me to write these lines. I am sitting at the airport in Addis Ababa waiting for my connecting flight back home and will use the time to tell you about my visit to the Mingi children at the children's home in Jinka. And in future I will not call our children that anymore, because "Mingi" means cursed and I don't want to use this word anymore in connection with these charming people.
First of all, the most important thing: all the children are doing splendidly, they are blossoming and thriving, studying hard and enjoying life – in the truest sense of the word.
It is touching to see how the older children take care of the younger ones in a very natural way, how they really look after them; in general the children show each other a lot of love and affection. This is exemplified by the Nannies, 8 Ethiopians who take care of the children, cook, do the laundry, keep the home clean – in short, do everything that needs to be done. There is always one of them in the home 24 hours so that somebody is also there at night. The children lovingly call these women "Mummy". They are always cheerful and they more than deserve this name!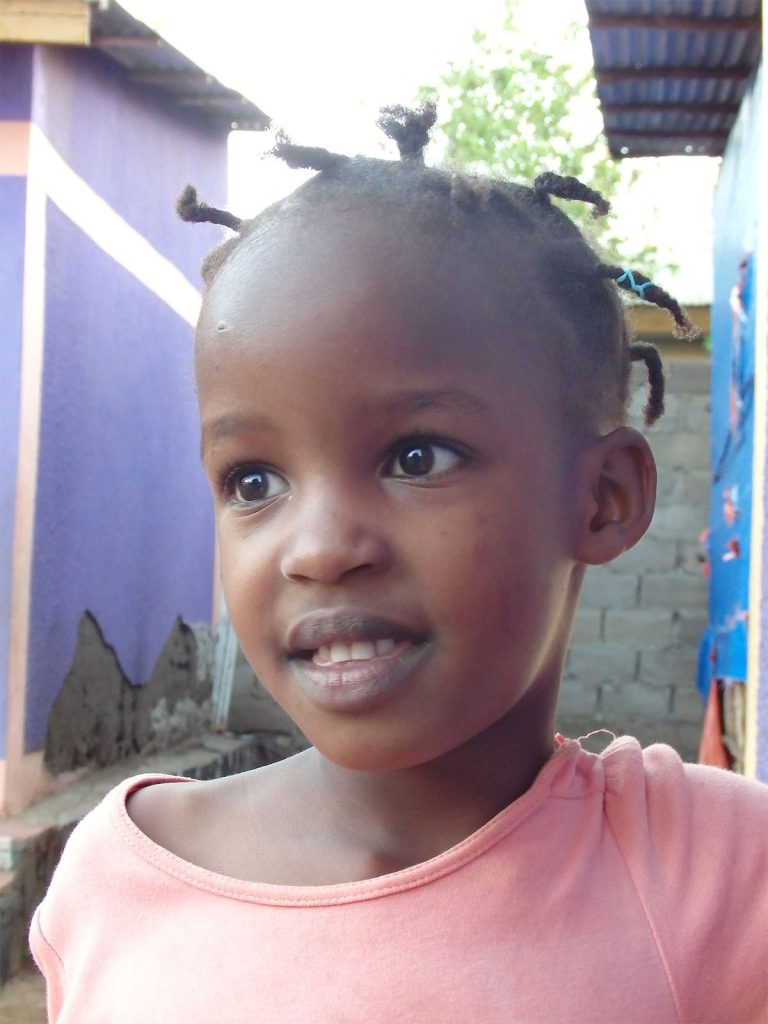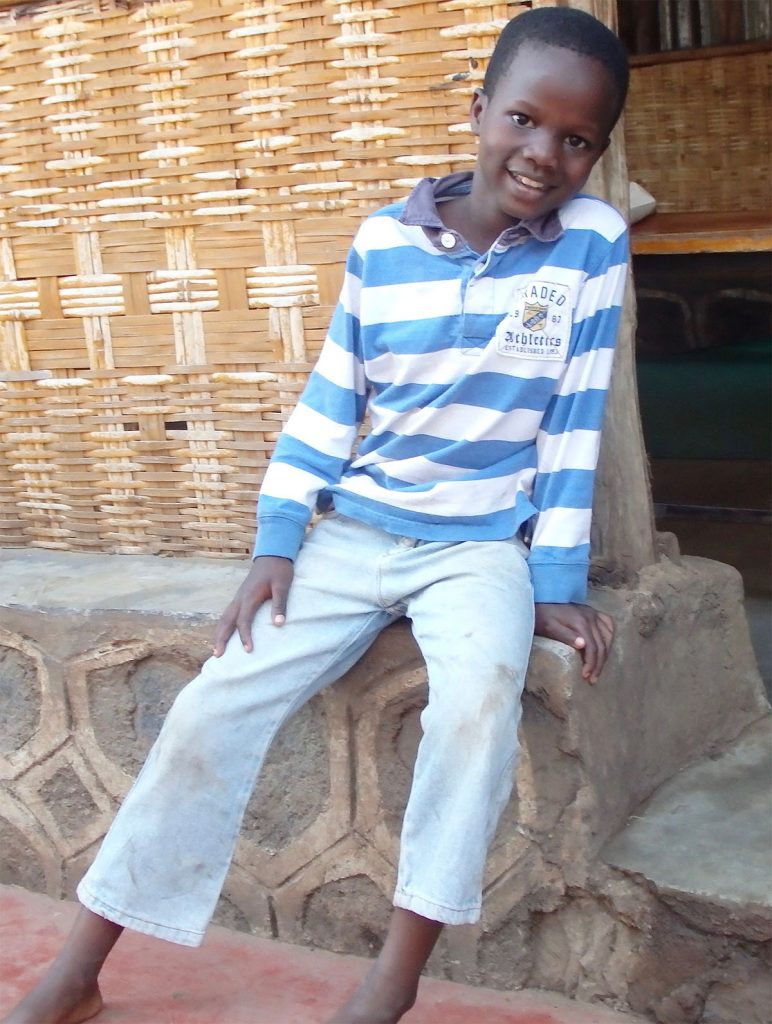 Let me briefly describe the children's daily routine: Monday to Friday the older children go to school after a breakfast consisting of homemade bread (which tastes really good) and tea at 07:30 am and come back to the home for lunch. Usually, there are thick vegetable soups and bread. Then the children play or rest for an hour and then they go back to school. At 5 pm they come home from school and Lale and his team help with homework, learn with the children and check where each child needs help. Something that is self-evident in our households – helping children to study – is very unusual in Ethiopia. But Lale is pursuing his goal of sending the best educated young people out in the world who can change the fate of their country with unprecedented persistence.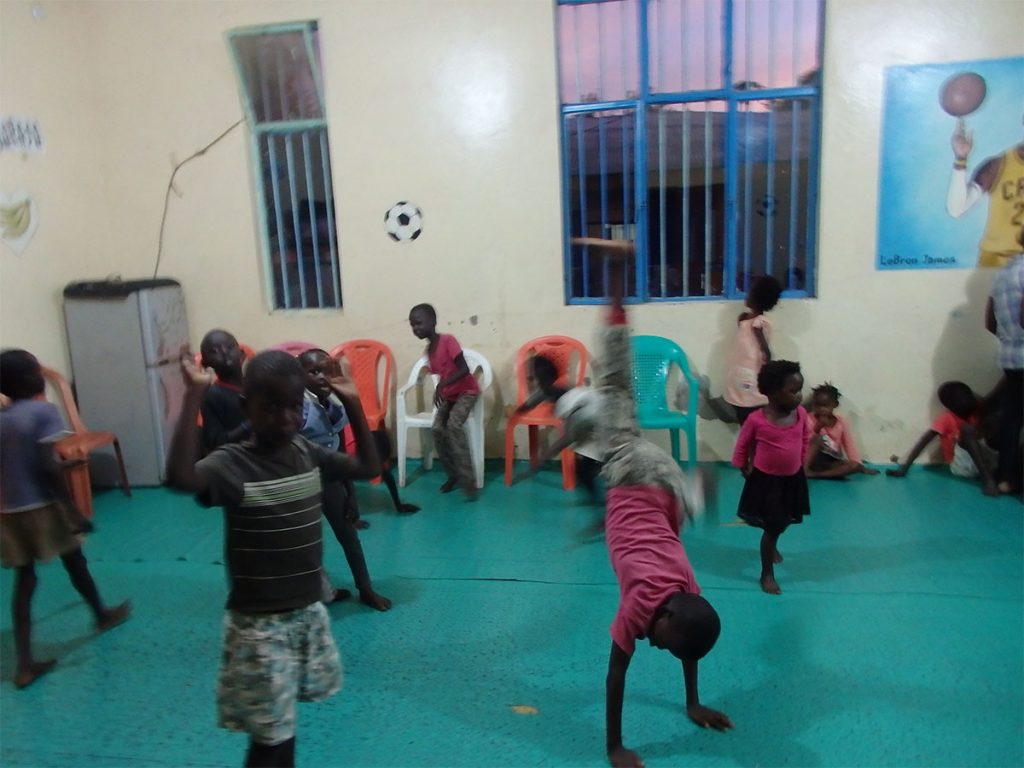 The smaller children stay in the home and are supervised by the Mummies. The children are quite independent and good at playing on their own for a while. They play with everything – chasing an old bicycle tire through the yard with a stick, riding a broomstick horse – there are no limits to the imagination.
The children are always on the move. They don't really like drawing and painting, sitting still in school all day requires a lot of discipline from them. They prefer to romp about in the yard, playing tag and counting rhyme games, football and basketball or helping to sweep the courtyard and carry water. They never stop moving.
But there is one thing where all children sit still and watch and listen in awe: when you shown them photos on your mobile phone or laptop. They are particularly fond of churches.
The children are educated in the Roman Catholic faith and they are fascinated by our magnificent Gothic and Romanesque churches. They are very interested in everything that is foreign to them and the children bombarded me with questions. This quickly developed into a daily "story hour" before dinner. We sat down on the floor in the common room, all cuddled together and the three oldest children, who already speak English quite well, appeared with a prepared list of questions (so that they don't forget anything!): how high are the mountains in Austria, do we have a rainy season, which religions, which music, which traditions and festivals and and and and and … and of course many personal questions too. The kids put me under quite a bit of pressure at times!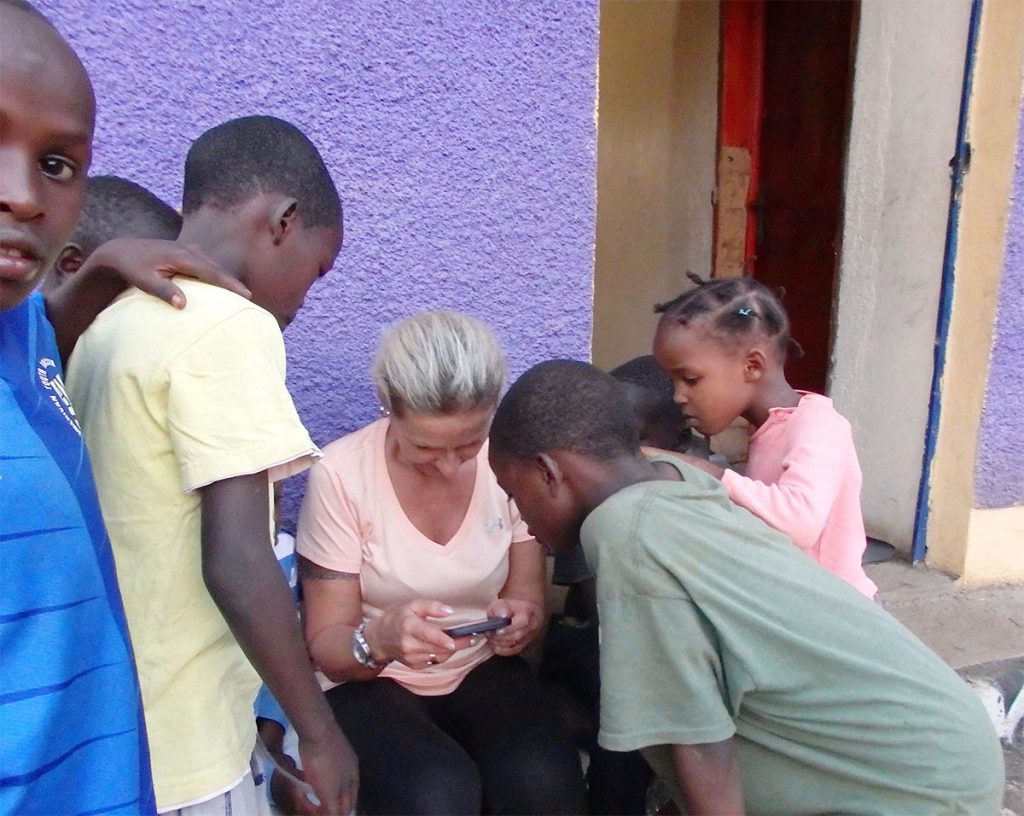 For dinner there is Injera, which is a thin sourdough made from the Ethiopian cereal teff (or any other flour available, e.g. beans), on which a thick paste called Wot is spread, consisting of various boiled vegetables. On Saturdays and holidays, meat – mostly goat or lamb – is also added.
On Saturday morning it is time for more studying and in the afternoon they play and do sports. Basketball was especially popular with the kids and some of the boys display real talent – who knows, maybe the next LeBron James is here (he's one of the kids' great role models).
On Sundays after breakfast everyone goes to church together, wearing as much white clothing as possible or at least a white cloth around their body and colorful bands around their head. The Catholic service lasts the whole morning and is a cheerful confusion, people pray, sing, express thanks, laugh, talk – and yet the atmosphere is dignified. A very touching experience compared to our European ways of worship (although the sermon delivered with great passion, volume and full physical effort seems quite unusual).
After lunch everyone gathers and can say what they particularly liked today or ask questions. A very special kind of religion and history lesson! The rest of the day belongs to the children, who play games; playing tag and counting rhymes are the most popular. And when Lale has time, of course, he participates in basketball and soccer games.
What sounds so tranquil here is actually really hard work. In a country like Ethiopia, caring for 50 children, feeding them, dressing them, teaching them and protecting them is doubly difficult. Laundry is washed in loam-built washing places, by hand of course, and they cook over an open fire. There is only one washroom with a "shower", but no running water, and the toilet is an outhouse.
But help is on the way! The new children's home, which offers much more space and comfort, is on the verge of completion. At the moment it is rainy season and this year it is exceptionally strong. What is a real blessing for the country is very obstructive for the construction work. The heavy rainfall turns the construction site into a mud swamp every day, which is why the completion of the home will be delayed by 6-8 weeks. But much is already finished and I saw with my own eyes the beautifully tiled washrooms and toilets and the "modern" kitchen (with a stove!).
The next step will be the construction of a private school on the same site. The project should start as soon as the necessary funds have been secured. Only problem: the land that the government has made available for the home (and the school) is about 10 km outside Jinka. That is why the next urgently needed purchase is a school bus. On the one hand, to bring the children to the public school in Jinka until their own school has been completed (up until now the school was only a half hour walk away) and on the other hand, to bring and take home other children, who are to attend the private school together with our children.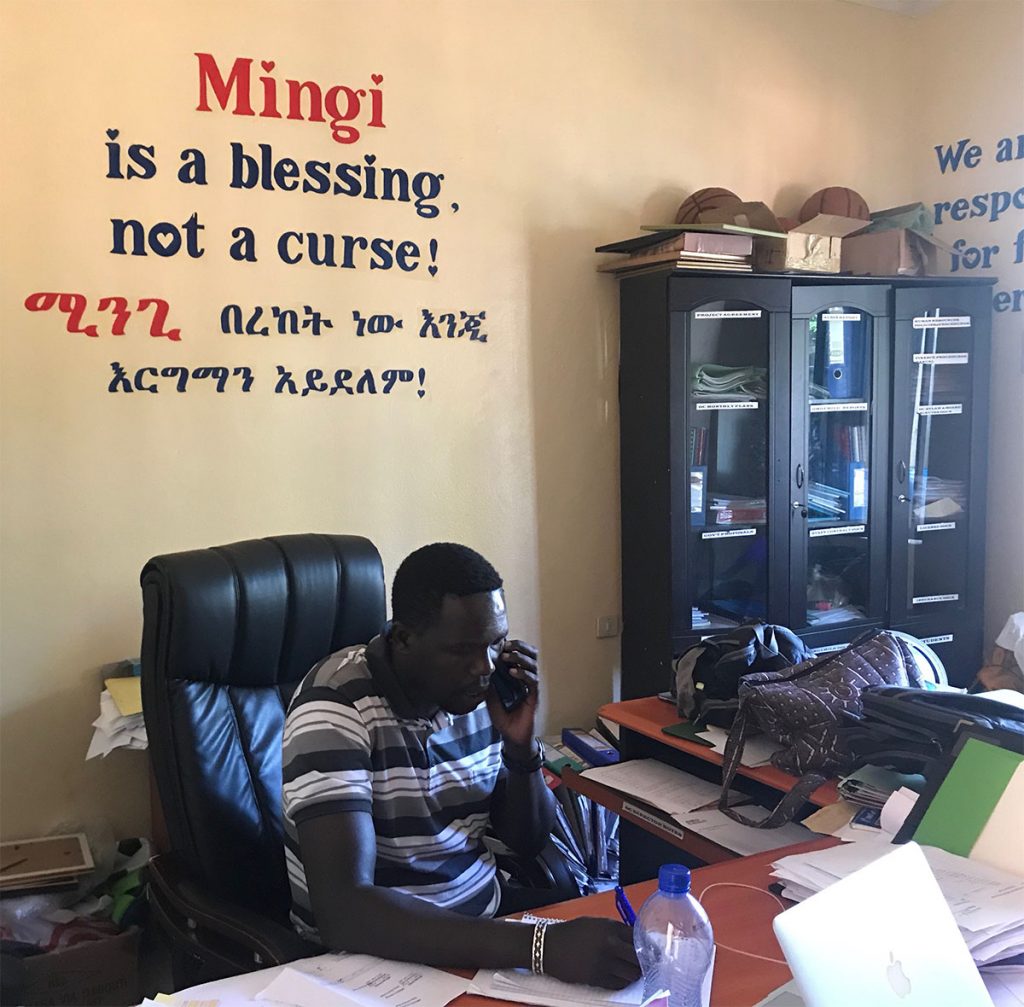 Meanwhile (slowly, but surely), opinion is growing even in this remote part of Ethiopia that education is important and parents are willing to pay a small school fee for it. This would also bring a little income to the organization and ensure that really good teaching staff can be employed and benefit everyone as a result. Since spare parts for a bus are difficult to get and a reliable vehicle is needed, we have moved away from the idea of purchasing a used vehicle and would like to buy a new or almost new school bus. The purchase price according to our initial research would around EUR 35,000.
There's an important event coming up in May: Lale has called a big hearing with the chiefs of the different tribes and representatives of the Ethiopian government and will present his 5-year plan there. On the one hand to gain support from the government and on the other hand to come one step closer to our declared goal, the abolition of the Mingi superstition.
First impressions of the new home
Although work on the interior has not yet been completed and the outside facilities still have to take shape, during my visit there was a small "pre-moving in ceremony" with invited guests from local political parties, representatives of the church and other organizations such as "Woman's Affairs". Here are some photos.
Trinking coffee with a tribal elder
There is one very exciting thing I still have to tell you about: Lale also took me to visit the Hamer Tribe (one of the tribes still practicing this unspeakable Mingi superstition) in the deepest bush. Before that we stopped briefly at a small lodge in Turmi and – as chance would have it – a young woman works there whose home village is nearby and she offered to accompany us there.
When we arrived only a few members of the village were present; most of them were with the livestock (cattle and goats) on the pastures or farming the surrounding fields. But one of the tribal elders, whose field is very close to the village, greeted us and was immediately enthralled by my various tattoos, especially the gecko on my forearm. But first she tested to see if they are really real and gave them a powerful lick. Me showing her my pierced tongue earned me an invitation to a coffee ceremony in her hut, which is a great honor. Lale had to stay outside, this is only for women, she said. With the young woman we met earlier as an interpreter, I was able to ask her many questions as she proudly showed me all her possessions, cups decorated with pearls, furs and belts and also put on her traditional headdress. After I had duly admired everything, she asked me whether I had anything like this. I said, no, I did not have anything like that – to which she stroked by head regretfully and said "Oh dear, then you are unlikely to find a husband"….
Unfortunately I was not allowed to photograph much, "these things have to stay among wise women". The coffee – which was cooked over an open fire in the hut (no wonder it felt like about 50° degrees in there), and made from coffee leaves and the peel of coffee beans, mixed with water from an open yellow canister – was served in a cup made from calabash and decorated with pearls that she cleaned by spitting in and then wiping out with her finger. I could not refuse. And today I can say – thank god – it didn't do me any harm!
But as exciting as this encounter was: I had to think all the time that I might be sitting opposite a child murderer… (of course it was impossible to mention Mingi).
During the last 5 days I spent a lot of time with the children, eating with them, studying, playing, helping them to wash and putting them to bed. Not once in all this time did any of the children cry.
The children see their situation like this: They are a big family, the Nannies are their mothers, Lale their father, and Lale's team (his deputy, the "tutor" etc.) are their uncles. The children are all brothers and sisters and all belong together and will be there for each other forever. They know, however, that there are people in Europe who have heard about their fate from Lale, and that these people care so much about them that even though they do not know them personally, they give them money so that they can go to school and become especially clever and good people. This thought makes them very proud, and they also feel it is their obligation to study hard so that these friendly people in Europe can be proud of them. And I've been asked to tell these people, "We all love you"!
What I noticed that was particularly positive was that Lale promotes this family and community feeling (the children have no possessions of their own, even their clothes belong to everyone), but nevertheless promotes their individuality. With every child Lale sees what he or she can do particularly well, where his or her talents lie (regardless of whether it is languages, sports or arts and crafts) so that their abilities can be given as much support as possible. The children are also much praised, kissed, hugged, treated with respect, and listened to. And of course they are shouted at too, if they are too wild and impetuous. They do what they are told – as far as I could see – always.
THANK YOU TO ALL SPONSORS
That these children are so happy and grow up feeling blessed is thanks to Lale and his team. And for Lale and his team to be able to do this, financial support is needed. I would like to take this opportunity to thank all the people who have donated so far. And at the same time reach out to all of you who are touched by the fate of these children: Please open not only your hearts but also your wallets and donate – every Euro helps.
Bank account for donations
OMO Child Äthiopien
AT93 1500 0006 0110 2296
OBKLAT2L
Through sponsorship, you will not only ensure that a child is looked after, you will also be looking after the child´s future.